Supplier/Distributor
Crop Protection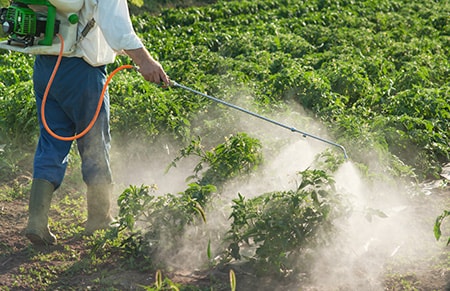 As a supplier and distributor of crop protection chemicals, Wego partners with the world's leading manufacturers to bring our customers a range of commodity and specialty products for the agricultural industry.

Crop protection manufacturers depend on Wego to supply raw materials. Wego's long-standing relationships and chemical industry knowledge make us a reliable supplier for crop protection components around the world.

Wego's products include but are not limited to: acids, acrylates, alcohols, amines, glycols, oils, pigments, polymers, solvents, surfactants and other additives. Wego always ensures our supply of products meet the highest standards in production, quality, safety and service.
Chemicals in the Crop Protection category
Name
CAS #
Markets
2,6-Dichloroaniline
608-31-1
Request info
2,6-Difluorobenzonitrile
1897-52-5
Request info
2-Methyl-5-Ethyl Pyridine
104-90-5
Request info
Allyl Bromide
106-95-6
Request info
Ascorbic Acid
50-81-7
Request info
B-Alanine
107-95-9
Request info
Benzimidazole
51-17-2
Request info
Benzonitrile
100-47-0
Request info
Butylated Hydroxytoluene
128-37-0
Request info
Butyric Acid
107-92-6
Request info
Chloropicrin
76-06-2
Request info
Citric Acid Anhydrous
77-92-9

Agriculture & Animal Care

,

CASE - Coatings, Adhesives, Sealants & Elastomers

,

Chemical & Materials Manufacturing

,

Construction & Building Materials

,

Food & Beverage

,

HI&I - Household, Industrial & Institutional

,

Mining

,

Oil & Gas

,

Personal Care & Pharmaceutical

,

Pulp, Paper & Packaging

,

Surface Treatment - Fluids, Lubricants & Metalworking

,

Textiles

,

Water Treatment

Request info
Citric Acid Monohydrate
5949-29-1

Agriculture & Animal Care

,

CASE - Coatings, Adhesives, Sealants & Elastomers

,

Chemical & Materials Manufacturing

,

Construction & Building Materials

,

Food & Beverage

,

HI&I - Household, Industrial & Institutional

,

Mining

,

Oil & Gas

,

Personal Care & Pharmaceutical

,

Pulp, Paper & Packaging

,

Surface Treatment - Fluids, Lubricants & Metalworking

,

Textiles

,

Water Treatment

Request info
Copper Sulfate
7758-99-8
Request info
Cyanuric Chloride
108-77-0
Request info
Diammonium Phosphate
7783-28-0
Request info
Dibasic Ester
95481-62-2
Request info
Dibenzylamine
103-49-1

Agriculture & Animal Care

,

CASE - Coatings, Adhesives, Sealants & Elastomers

,

Chemical & Materials Manufacturing

,

HI&I - Household, Industrial & Institutional

,

Oil & Gas

,

Personal Care & Pharmaceutical

,

Pulp, Paper & Packaging

Request info
Dimethyl Phosphite
868-85-9
Request info
Dimethylbutyryl Chloride
5856-77-9
Request info
Dipropylene Glycol Dibenzoate
27138-31-4
Request info
DL-Alanine
302-72-7
Request info
Ethyl Acetoacetate
141-97-9
Request info
L-Alanine
56-41-7
Request info
L-Glutamine
56-85-9
Request info
m-Toluic Acid
99-04-7
Request info
Methanesulfonic Acid
75-75-2

Agriculture & Animal Care

,

CASE - Coatings, Adhesives, Sealants & Elastomers

,

Chemical & Materials Manufacturing

,

Electronics

,

Food & Beverage

,

HI&I - Household, Industrial & Institutional

,

Personal Care & Pharmaceutical

,

Surface Treatment - Fluids, Lubricants & Metalworking

,

Textiles

Request info
Methanesulfonyl Chloride
124-63-0
Request info
Methyl Acetoacetate
105-45-3
Request info
Monoammonium Phosphate
7722-76-1
Request info
Monocalcium Phosphate
7758-23-8
Request info
Monochloroacetic Acid
79-11-8
Request info
Monoisopropanolamine
78-96-6

Agriculture & Animal Care

,

CASE - Coatings, Adhesives, Sealants & Elastomers

,

Chemical & Materials Manufacturing

,

Electronics

,

HI&I - Household, Industrial & Institutional

,

Oil & Gas

,

Personal Care & Pharmaceutical

,

Surface Treatment - Fluids, Lubricants & Metalworking

Request info
Monopotassium Phosphate
7778-77-0
Request info
N-3-Ethyl Phenyl Methylamino Phenyl-2-Methylpropanamide
Mixture
Request info
N-Ethyl Pyrollidone
2687-91-4
Request info
N-Methyl Pyrrolidone
872-50-4
Request info
N-Octyl Pyrrolidone
2687-94-7

Agriculture & Animal Care

,

CASE - Coatings, Adhesives, Sealants & Elastomers

,

Chemical & Materials Manufacturing

,

Electronics

,

HI&I - Household, Industrial & Institutional

,

Personal Care & Pharmaceutical

,

Surface Treatment - Fluids, Lubricants & Metalworking

,

Textiles

Request info
Nitromethane
75-52-5
Request info
P-N-Propylbenzaldehyde
28785-06-0
Request info
Para-Dichlorobenzene
106-46-7
Request info
Parachlorobenzotrifluoride
98-56-6
Request info
Polyvinyl Pyrrolidone
9003-39-8

Agriculture & Animal Care

,

CASE - Coatings, Adhesives, Sealants & Elastomers

,

Chemical & Materials Manufacturing

,

Construction & Building Materials

,

Electronics

,

HI&I - Household, Industrial & Institutional

,

Oil & Gas

,

Personal Care & Pharmaceutical

,

Pulp, Paper & Packaging

,

Surface Treatment - Fluids, Lubricants & Metalworking

,

Textiles

,

Water Treatment

Request info
Potassium Nitrate
7757-79-1
Request info
Propylene Glycol Methyl Ether Acetate
108-65-6
Request info
Prussian Blue
25869-00-5
Request info
Quinoline
91-22-5
Request info
Sodium Dimethyldithiocarbamate
128-04-1
Request info
Triclopyr Butoxyethyl Ester
64700-56-7
Request info
Triethyl Orthoformate
122-51-0
Request info
Triflic Acid
1493-13-6
Request info
Triflic Anhydride
358-23-6
Request info
Trimethyl Orthoformate
149-73-5
Request info