Pulp, Paper & Packaging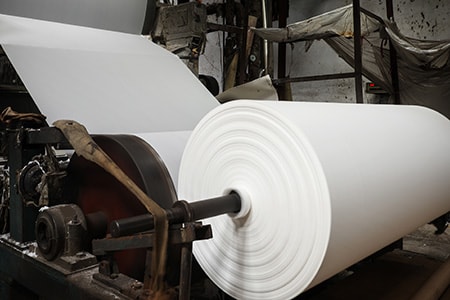 As a supplier and distributor of pulp and paper chemicals, Wego Chemical Group partners with the world's leading manufacturers to bring our customers a range of commodity and specialty products for the pulp and paper industry. Wego's pulp and paper products sell to various end users for numerous applications and uses.

Pulp and paper manufacturers around the world depend on Wego to supply raw materials. Wego's long-standing relationships and chemical industry knowledge make us a reliable supplier for pulp and paper products in nations across the globe.


Chemicals in the Pulp, Paper & Packaging market
Name
CAS #
Markets
Anthraquinone
84-65-1
Request info
Benzyldimethyl 2-1-Oxoallyl Oxy Ethyl Ammonium Chloride
46830-22-2
Request info
Carboxymethyl Cellulose
9000-11-7
Request info
Casein
9000-71-9
Request info
Citric Acid Anhydrous
77-92-9

Agriculture & Animal Care

,

CASE - Coatings, Adhesives, Sealants & Elastomers

,

Chemical & Materials Manufacturing

,

Construction & Building Materials

,

Food & Beverage

,

HI&I - Household, Industrial & Institutional

,

Mining

,

Oil & Gas

,

Personal Care & Pharmaceutical

,

Pulp, Paper & Packaging

,

Surface Treatment - Fluids, Lubricants & Metalworking

,

Textiles

,

Water Treatment

Request info
Citric Acid Monohydrate
5949-29-1

Agriculture & Animal Care

,

CASE - Coatings, Adhesives, Sealants & Elastomers

,

Chemical & Materials Manufacturing

,

Construction & Building Materials

,

Food & Beverage

,

HI&I - Household, Industrial & Institutional

,

Mining

,

Oil & Gas

,

Personal Care & Pharmaceutical

,

Pulp, Paper & Packaging

,

Surface Treatment - Fluids, Lubricants & Metalworking

,

Textiles

,

Water Treatment

Request info
Cyanuric Chloride
108-77-0
Request info
Di(2-ethylhexyl) Maleate
142-16-5
Request info
Diacetone Acrylamide
2873-97-4
Request info
Dibenzylamine
103-49-1

Agriculture & Animal Care

,

CASE - Coatings, Adhesives, Sealants & Elastomers

,

Chemical & Materials Manufacturing

,

HI&I - Household, Industrial & Institutional

,

Oil & Gas

,

Personal Care & Pharmaceutical

,

Pulp, Paper & Packaging

Request info
Dibenzylhydroxylamine
621-07-8
Request info
Dodecyltrimethylammonium Chloride
112-00-5
Request info
Ethyl Acetate
141-78-6

Agriculture & Animal Care

,

CASE - Coatings, Adhesives, Sealants & Elastomers

,

Chemical & Materials Manufacturing

,

Construction & Building Materials

,

Electronics

,

Food & Beverage

,

HI&I - Household, Industrial & Institutional

,

Oil & Gas

,

Personal Care & Pharmaceutical

,

Pulp, Paper & Packaging

,

Surface Treatment - Fluids, Lubricants & Metalworking

,

Textiles

Request info
Fumaric Acid
110-17-8

Agriculture & Animal Care

,

CASE - Coatings, Adhesives, Sealants & Elastomers

,

Chemical & Materials Manufacturing

,

Food & Beverage

,

Personal Care & Pharmaceutical

,

Pulp, Paper & Packaging

,

Surface Treatment - Fluids, Lubricants & Metalworking

,

Textiles

Request info
Photoinitiator BDK
24650-42-8
Request info
Phthalic Anhydride
85-44-9
Request info
Polyethylene Terephthalate
25038-59-9
Request info
Polylactic Acid
26100-51-6
Request info
Polyvinyl Alcohol
9002-89-5

CASE - Coatings, Adhesives, Sealants & Elastomers

,

Chemical & Materials Manufacturing

,

Construction & Building Materials

,

Personal Care & Pharmaceutical

,

Pulp, Paper & Packaging

,

Surface Treatment - Fluids, Lubricants & Metalworking

,

Textiles

Request info
Polyvinyl Pyrrolidone
9003-39-8

Agriculture & Animal Care

,

CASE - Coatings, Adhesives, Sealants & Elastomers

,

Chemical & Materials Manufacturing

,

Construction & Building Materials

,

Electronics

,

HI&I - Household, Industrial & Institutional

,

Oil & Gas

,

Personal Care & Pharmaceutical

,

Pulp, Paper & Packaging

,

Surface Treatment - Fluids, Lubricants & Metalworking

,

Textiles

,

Water Treatment

Request info
Prussian Blue
25869-00-5
Request info
Rhodamine B
81-88-9
Request info
Sodium Alginate
9005-38-3
Request info
Sodium Borohydride
16940-66-2
Request info
Sodium Chlorate
7775-09-9
Request info
Sodium Chlorite
7758-19-2
Request info
Sodium Hydrosulfide
16721-80-5

Agriculture & Animal Care

,

CASE - Coatings, Adhesives, Sealants & Elastomers

,

Chemical & Materials Manufacturing

,

Construction & Building Materials

,

HI&I - Household, Industrial & Institutional

,

Mining

,

Oil & Gas

,

Pulp, Paper & Packaging

,

Surface Treatment - Fluids, Lubricants & Metalworking

,

Textiles

Request info
Sodium Hydrosulfite
7775-14-6
Request info
Sodium Monochloroacetate
3926-62-3

CASE - Coatings, Adhesives, Sealants & Elastomers

,

Chemical & Materials Manufacturing

,

Food & Beverage

,

HI&I - Household, Industrial & Institutional

,

Oil & Gas

,

Personal Care & Pharmaceutical

,

Pulp, Paper & Packaging

Request info
Sodium Perborate Monohydrate
10332-33-9

Chemical & Materials Manufacturing

,

Construction & Building Materials

,

HI&I - Household, Industrial & Institutional

,

Oil & Gas

,

Personal Care & Pharmaceutical

,

Pulp, Paper & Packaging

,

Surface Treatment - Fluids, Lubricants & Metalworking

,

Water Treatment

Request info
Sodium Perborate Tetrahydrate
10486-00-7
Request info
Sodium Sulfate Anhydrous
7757-82-6
Request info
Sodium Sulfide
1313-82-2
Request info
Sodium Vinyl Sulfonate
3039-83-6

Agriculture & Animal Care

,

CASE - Coatings, Adhesives, Sealants & Elastomers

,

Chemical & Materials Manufacturing

,

Oil & Gas

,

Pulp, Paper & Packaging

,

Surface Treatment - Fluids, Lubricants & Metalworking

,

Textiles

,

Water Treatment

Request info
Sulfamic Acid
5329-14-6
Request info
Tetraacetylethylenediamine
10543-57-4
Request info
Tetrakis(hydroxymethyl)phosphonium Sulphate
55566-30-8

CASE - Coatings, Adhesives, Sealants & Elastomers

,

Chemical & Materials Manufacturing

,

Construction & Building Materials

,

Oil & Gas

,

Pulp, Paper & Packaging

,

Surface Treatment - Fluids, Lubricants & Metalworking

,

Textiles

,

Water Treatment

Request info
Thiourea Dioxide
1758-73-2
Request info