Textiles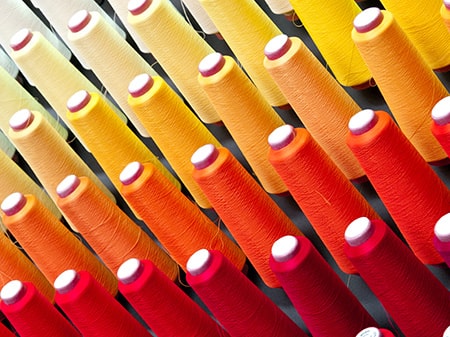 Wego Chemical Group is a global importer, supplier and distributor of textile auxiliarie chemicals. Wego has established long-standing partnerships with manufacturers of products with applications and uses in the textile auxiliaries industry. Our strong worldwide network establishes Wego as a premier supplier for textile auxiliarie products around the world.

With decades of experience in sourcing and logistics management, Wego provides companies in need of textile auxiliarie chemicals with value-added supply chain solutions. We source reliably high quality components and have the expertise and diligence to reliably and efficiently service our customers.

Wego's products include but are not limited to: acids, acrylates, alcohols, amines, glycols, oils, pigments, polymers, solvents, surfactants and other additives. Wego always ensures our supply of products meet the highest standards in production, quality, safety and service.
Chemicals in the Textiles market
Name
CAS #
Markets
1-Naphthol
90-15-3
Request info
3-Nitrobenzenesulfonic Acid
98-47-5
Request info
Acacia Extract
8001-76-1
Request info
Ammonium Thiocyanate
1762-95-4
Request info
Antimony Trioxide
1309-64-4
Request info
Barium Chloride
10361-37-2
Request info
Benzisothiazolinone
2634-33-5
Request info
Benzoic Acid
65-85-0
Request info
Benzyl Benzoate
120-51-4
Request info
Benzyldimethyl 2-1-Oxoallyl Oxy Ethyl Ammonium Chloride
46830-22-2
Request info
Butylene Carbonate
4437-85-8
Request info
Carboxymethyl Tamarind
68647-15-4
Request info
Citric Acid Anhydrous
77-92-9

Agriculture & Animal Care

,

CASE - Coatings, Adhesives, Sealants & Elastomers

,

Chemical & Materials Manufacturing

,

Construction & Building Materials

,

Food & Beverage

,

HI&I - Household, Industrial & Institutional

,

Mining

,

Oil & Gas

,

Personal Care & Pharmaceutical

,

Pulp, Paper & Packaging

,

Surface Treatment - Fluids, Lubricants & Metalworking

,

Textiles

,

Water Treatment

Request info
Citric Acid Monohydrate
5949-29-1

Agriculture & Animal Care

,

CASE - Coatings, Adhesives, Sealants & Elastomers

,

Chemical & Materials Manufacturing

,

Construction & Building Materials

,

Food & Beverage

,

HI&I - Household, Industrial & Institutional

,

Mining

,

Oil & Gas

,

Personal Care & Pharmaceutical

,

Pulp, Paper & Packaging

,

Surface Treatment - Fluids, Lubricants & Metalworking

,

Textiles

,

Water Treatment

Request info
Coconut Fatty Acid
61788-47-4
Request info
Di(2-ethylhexyl) Maleate
142-16-5
Request info
Diacetone Acrylamide
2873-97-4
Request info
Dibutyl Maleate
105-76-0
Request info
Dibutylaminopropylamine
102-83-0
Request info
Dicyandiamide
461-58-5
Request info
Dicyclohexylamine
101-83-7
Request info
Diethyl Sulfate
64-67-5
Request info
Dimethylaminoethyl Methacrylate
2867-47-2
Request info
Dimethylethanolamine
108-01-0
Request info
Dioctyl Sebacate
122-62-3
Request info
Dipropylene Glycol Dibenzoate
27138-31-4
Request info
Dipropylene Glycol n-Butyl Ether
29911-28-2

Agriculture & Animal Care

,

CASE - Coatings, Adhesives, Sealants & Elastomers

,

Chemical & Materials Manufacturing

,

HI&I - Household, Industrial & Institutional

,

Personal Care & Pharmaceutical

,

Surface Treatment - Fluids, Lubricants & Metalworking

,

Textiles

Request info
Dodecyltrimethylammonium Chloride
112-00-5
Request info
Ethyl Acetate
141-78-6

Agriculture & Animal Care

,

CASE - Coatings, Adhesives, Sealants & Elastomers

,

Chemical & Materials Manufacturing

,

Construction & Building Materials

,

Electronics

,

Food & Beverage

,

HI&I - Household, Industrial & Institutional

,

Oil & Gas

,

Personal Care & Pharmaceutical

,

Pulp, Paper & Packaging

,

Surface Treatment - Fluids, Lubricants & Metalworking

,

Textiles

Request info
Ethyl Acrylate
140-88-5
Request info
Formic Acid
64-18-6
Request info
Fumaric Acid
110-17-8

Agriculture & Animal Care

,

CASE - Coatings, Adhesives, Sealants & Elastomers

,

Chemical & Materials Manufacturing

,

Food & Beverage

,

Personal Care & Pharmaceutical

,

Pulp, Paper & Packaging

,

Surface Treatment - Fluids, Lubricants & Metalworking

,

Textiles

Request info
Glyoxal
107-22-2
Request info
Hypophosphorous Acid
6303-21-5

CASE - Coatings, Adhesives, Sealants & Elastomers

,

Chemical & Materials Manufacturing

,

Electronics

,

Food & Beverage

,

HI&I - Household, Industrial & Institutional

,

Personal Care & Pharmaceutical

,

Surface Treatment - Fluids, Lubricants & Metalworking

,

Textiles

,

Water Treatment

Request info
Indigo Blue
482-89-3
Request info
Lauryl Myristyl Alcohol
68855-56-1
Request info
Methanesulfonic Acid
75-75-2

Agriculture & Animal Care

,

CASE - Coatings, Adhesives, Sealants & Elastomers

,

Chemical & Materials Manufacturing

,

Electronics

,

Food & Beverage

,

HI&I - Household, Industrial & Institutional

,

Personal Care & Pharmaceutical

,

Surface Treatment - Fluids, Lubricants & Metalworking

,

Textiles

Request info
Methyl 3-(3,5-Di-Tert-Butyl-4-Hydroxyphenyl) Propanoate
6386-38-5
Request info
Methyl Acetoacetate
105-45-3
Request info
Methyl Methacrylate
80-62-6
Request info
Methyl Palmitate
112-39-0
Request info
N,N-Dimethylurea
96-31-1
Request info
N-Octyl Pyrrolidone
2687-94-7

Agriculture & Animal Care

,

CASE - Coatings, Adhesives, Sealants & Elastomers

,

Chemical & Materials Manufacturing

,

Electronics

,

HI&I - Household, Industrial & Institutional

,

Personal Care & Pharmaceutical

,

Surface Treatment - Fluids, Lubricants & Metalworking

,

Textiles

Request info
Nickel Sulfate
10101-97-0
Request info
Phosphorus Pentoxide
1314-56-3

Agriculture & Animal Care

,

CASE - Coatings, Adhesives, Sealants & Elastomers

,

Chemical & Materials Manufacturing

,

HI&I - Household, Industrial & Institutional

,

Oil & Gas

,

Personal Care & Pharmaceutical

,

Surface Treatment - Fluids, Lubricants & Metalworking

,

Textiles

Request info
Polyacrylamide
9003-05-8
Request info
Polydimethylsiloxane
63148-62-9
Request info
Polyethylene Glycol 12 Glyceryl Laurate
51248-32-9
Request info
Polyphosphoric Acid
8017-16-1

CASE - Coatings, Adhesives, Sealants & Elastomers

,

Chemical & Materials Manufacturing

,

Construction & Building Materials

,

HI&I - Household, Industrial & Institutional

,

Oil & Gas

,

Surface Treatment - Fluids, Lubricants & Metalworking

,

Textiles

Request info
Polyvinyl Alcohol
9002-89-5

CASE - Coatings, Adhesives, Sealants & Elastomers

,

Chemical & Materials Manufacturing

,

Construction & Building Materials

,

Personal Care & Pharmaceutical

,

Pulp, Paper & Packaging

,

Surface Treatment - Fluids, Lubricants & Metalworking

,

Textiles

Request info
Polyvinyl Pyrrolidone
9003-39-8

Agriculture & Animal Care

,

CASE - Coatings, Adhesives, Sealants & Elastomers

,

Chemical & Materials Manufacturing

,

Construction & Building Materials

,

Electronics

,

HI&I - Household, Industrial & Institutional

,

Oil & Gas

,

Personal Care & Pharmaceutical

,

Pulp, Paper & Packaging

,

Surface Treatment - Fluids, Lubricants & Metalworking

,

Textiles

,

Water Treatment

Request info
Potassium Bromide
7758-02-3
Request info
Potassium Persulfate
7727-21-1
Request info
Potassium Stannate
12027-61-1
Request info
Propylene Carbonate
108-32-7
Request info
Propylene Glycol
57-55-6

Agriculture & Animal Care

,

CASE - Coatings, Adhesives, Sealants & Elastomers

,

Chemical & Materials Manufacturing

,

Construction & Building Materials

,

Food & Beverage

,

HI&I - Household, Industrial & Institutional

,

Personal Care & Pharmaceutical

,

Surface Treatment - Fluids, Lubricants & Metalworking

,

Textiles

Request info
Pyridine
110-86-1
Request info
Quinoline
91-22-5
Request info
Rhodamine B
81-88-9
Request info
Sodium 3-Nitrobenzenesulfonate
127-68-4
Request info
Sodium Acetate Anhydrous
127-09-3
Request info
Sodium Aluminum Sulfate
10102-71-3
Request info
Sodium Borohydride
16940-66-2
Request info
Sodium Chlorite
7758-19-2
Request info
Sodium Hydrosulfide
16721-80-5

Agriculture & Animal Care

,

CASE - Coatings, Adhesives, Sealants & Elastomers

,

Chemical & Materials Manufacturing

,

Construction & Building Materials

,

HI&I - Household, Industrial & Institutional

,

Mining

,

Oil & Gas

,

Pulp, Paper & Packaging

,

Surface Treatment - Fluids, Lubricants & Metalworking

,

Textiles

Request info
Sodium Hydrosulfite
7775-14-6
Request info
Sodium Hypophosphite Monohydrate
10039-56-2

Agriculture & Animal Care

,

CASE - Coatings, Adhesives, Sealants & Elastomers

,

Chemical & Materials Manufacturing

,

Construction & Building Materials

,

Electronics

,

Food & Beverage

,

Personal Care & Pharmaceutical

,

Surface Treatment - Fluids, Lubricants & Metalworking

,

Textiles

,

Water Treatment

Request info
Sodium Stannate
12058-66-1
Request info
Sodium Sulfate Anhydrous
7757-82-6
Request info
Sodium Sulfide
1313-82-2
Request info
Sodium Thiocyanate
540-72-7
Request info
Sodium Tripolyphosphate
7758-29-4
Request info
Sodium Vinyl Sulfonate
3039-83-6

Agriculture & Animal Care

,

CASE - Coatings, Adhesives, Sealants & Elastomers

,

Chemical & Materials Manufacturing

,

Oil & Gas

,

Pulp, Paper & Packaging

,

Surface Treatment - Fluids, Lubricants & Metalworking

,

Textiles

,

Water Treatment

Request info
Sulfur Black
1326-82-5
Request info
Tannic Acid
1401-55-4
Request info
Tetraacetylethylenediamine
10543-57-4
Request info
Tetrachlorophthalic Anhydride
117-08-8
Request info
Tetrakis(hydroxymethyl)phosphonium Chloride
124-64-1
Request info
Tetrakis(hydroxymethyl)phosphonium Sulphate
55566-30-8

CASE - Coatings, Adhesives, Sealants & Elastomers

,

Chemical & Materials Manufacturing

,

Construction & Building Materials

,

Oil & Gas

,

Pulp, Paper & Packaging

,

Surface Treatment - Fluids, Lubricants & Metalworking

,

Textiles

,

Water Treatment

Request info
Thioglycolic Acid
68-11-1
Request info
Thiourea
62-56-6
Request info
Thiourea Dioxide
1758-73-2
Request info
Titanium Dioxide
13463-67-7
Request info
Titanium Tetrachloride
7550-45-0
Request info
Vinyl Acetate Monomer
108-05-4
Request info
Zirconium Carbonate
57219-64-4
Request info
Zirconium Oxychloride
7699-43-6
Request info