Food & Beverage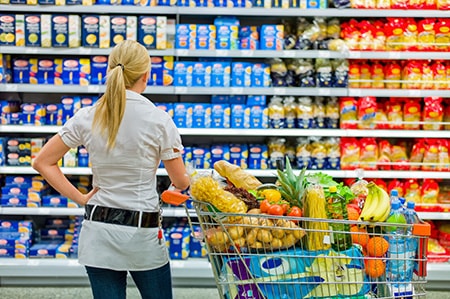 As an international importer, distributor and supplier of various commodity and specialty chemicals, Wego has a strong ability to service manufacturers and distributors with food and beverage products. With decades of experience in sourcing reliable chemical supply, Wego consistently finds steady and competitively priced supply chains for food and beverage chemicals. With our logistics management savvy, Wego focuses on the provision of value-added supply chain solutions to our customers in need of food and beverage products.

Wego has established long-standing partnerships with manufacturers of products with applications and uses in the food and beverage industry. Our strong worldwide network establishes Wego as a premier supplier for food and beverage products around the world.

Wego's products include but are not limited to: acids, acrylates, alcohols, amines, glycols, oils, pigments, polymers, solvents, surfactants and other additives. Wego always ensures our supply of products meet the highest standards in production, quality, safety and service.
Chemicals in the Food & Beverage market
Name
CAS #
Markets
1-Naphthol
90-15-3
Request info
12-Hydroxystearic Acid
106-14-9
Request info
2-Butanol
78-92-2
Request info
3-Phenyl-1-Propanol
122-97-4
Request info
Acesulfame Potassium
55589-62-3
Request info
Acetic Acid
64-19-7
Request info
Agar Agar
9002-18-0
Request info
Aluminum Nitrate
13473-90-0
Request info
Ammonium Acetate
631-61-8
Request info
Ammonium Bicarbonate
1066-33-7
Request info
Ammonium Chloride
12125-02-9
Request info
Ammonium Polyphosphate
68333-79-9
Request info
Ammonium Sulfate
7783-20-2
Request info
Ascorbic Acid
50-81-7
Request info
Aspartame
22839-47-0
Request info
B-Alanine
107-95-9
Request info
Beeswax
8012-89-3
Request info
Benzaldehyde
100-52-7
Request info
Benzoic Acid
65-85-0
Request info
Benzoin
119-53-9
Request info
Benzophenone
119-61-9
Request info
Benzyl Acetate
140-11-4
Request info
Benzyl Alcohol
100-51-6
Request info
Benzyl Benzoate
120-51-4
Request info
Benzyl Chloride
100-44-7
Request info
Beta Cyclodextrin
7585-39-9
Request info
Betaine
107-43-7
Request info
Borax
1303-96-4
Request info
Branched Chain Amino Acid
-
Request info
Brassylic Acid
505-52-2
Request info
Butylated Hydroxyanisole
25013-16-5
Request info
Butylated Hydroxytoluene
128-37-0
Request info
Caffeine
58-08-2
Request info
Calcium Ascorbate
5743-27-1
Request info
Calcium Formate
544-17-2
Request info
Calcium Hydroxide
1305-62-0
Request info
Calcium Propionate
4075-81-4
Request info
Calcium Sulfate
7778-18-9
Request info
Camphor
76-22-2
Request info
Capric Acid
334-48-5
Request info
Caproic Acid
142-62-1
Request info
Caprylic Acid
124-07-2
Request info
Carboxymethyl Cellulose
9000-11-7
Request info
Carrageenan
9000-07-1
Request info
Casein
9000-71-9
Request info
Castor Oil
8001-79-4
Request info
Cetyl Alcohol
36653-82-4
Request info
Cetyl-Stearyl Alcohol
8038-54-8
Request info
Cholecalciferol
67-97-0
Request info
Citric Acid Anhydrous
77-92-9

Agriculture & Animal Care

,

CASE - Coatings, Adhesives, Sealants & Elastomers

,

Chemical & Materials Manufacturing

,

Construction & Building Materials

,

Food & Beverage

,

HI&I - Household, Industrial & Institutional

,

Mining

,

Oil & Gas

,

Personal Care & Pharmaceutical

,

Pulp, Paper & Packaging

,

Surface Treatment - Fluids, Lubricants & Metalworking

,

Textiles

,

Water Treatment

Request info
Citric Acid Monohydrate
5949-29-1

Agriculture & Animal Care

,

CASE - Coatings, Adhesives, Sealants & Elastomers

,

Chemical & Materials Manufacturing

,

Construction & Building Materials

,

Food & Beverage

,

HI&I - Household, Industrial & Institutional

,

Mining

,

Oil & Gas

,

Personal Care & Pharmaceutical

,

Pulp, Paper & Packaging

,

Surface Treatment - Fluids, Lubricants & Metalworking

,

Textiles

,

Water Treatment

Request info
Citrulline
372-75-8
Request info
Cobalt Sulfate
10124-43-3
Request info
Coconut Oil
8001-31-8
Request info
Cream of Tartar
868-14-4
Request info
Crotonic Acid
107-93-7
Request info
Cyclohexylamine
108-91-8
Request info
D-Gluconolactone
90-80-2
Request info
D-Limonene
5989-27-5
Request info
D-Xylose
31178-70-8
Request info
Denatonium Benzoate
3734-33-6
Request info
Dextrose
50-99-7
Request info
Diammonium Phosphate
7783-28-0
Request info
Dicalcium Phosphate
7757-93-9
Request info
Diethyl Maleate
141-05-9
Request info
Diethyl Phthalate
84-66-2
Request info
Diisopropanolamine
110-97-4

Agriculture & Animal Care

,

CASE - Coatings, Adhesives, Sealants & Elastomers

,

Chemical & Materials Manufacturing

,

Food & Beverage

,

HI&I - Household, Industrial & Institutional

,

Oil & Gas

,

Personal Care & Pharmaceutical

,

Surface Treatment - Fluids, Lubricants & Metalworking

Request info
Dimethyl Malonate
108-59-8
Request info
Dioctyl Adipate
123-79-5
Request info
Dioctyl Phthalate
117-84-0
Request info
Dipotassium Phosphate
7758-11-4
Request info
Disodium Inosinate
4691-65-0
Request info
Disodium Phosphate
7558-79-4
Request info
DL-Alanine
302-72-7
Request info
Erythorbic Acid
89-65-6
Request info
Erythritol
149-32-6
Request info
Ethyl Acetate
141-78-6

Agriculture & Animal Care

,

CASE - Coatings, Adhesives, Sealants & Elastomers

,

Chemical & Materials Manufacturing

,

Construction & Building Materials

,

Electronics

,

Food & Beverage

,

HI&I - Household, Industrial & Institutional

,

Oil & Gas

,

Personal Care & Pharmaceutical

,

Pulp, Paper & Packaging

,

Surface Treatment - Fluids, Lubricants & Metalworking

,

Textiles

Request info
Ethyl Acetoacetate
141-97-9
Request info
Ethyl Vanillin
121-32-4
Request info
Ethylenediaminetetraacetic Acid Calcium Disodium Salt Hydrate
23411-34-9
Request info
Ferric Ammonium Citrate
1185-57-5
Request info
Folic Acid
59-30-3
Request info
Fructose
57-48-7
Request info
Fumaric Acid
110-17-8

Agriculture & Animal Care

,

CASE - Coatings, Adhesives, Sealants & Elastomers

,

Chemical & Materials Manufacturing

,

Food & Beverage

,

Personal Care & Pharmaceutical

,

Pulp, Paper & Packaging

,

Surface Treatment - Fluids, Lubricants & Metalworking

,

Textiles

Request info
Gelatin
9000-70-8
Request info
Gellan Gum
71010-52-1
Request info
Gluconic Acid
526-95-4
Request info
Glycerine
56-81-5
Request info
Glyceryl Monostearate
31566-31-1
Request info
Glycine
56-40-6
Request info
Guar Gum
9000-30-0
Request info
Heptanoic Acid
111-14-8
Request info
Hexadecanedioic Acid
505-54-4
Request info
Hydrogenated Castor Oil
8001-78-3
Request info
Hypophosphorous Acid
6303-21-5

CASE - Coatings, Adhesives, Sealants & Elastomers

,

Chemical & Materials Manufacturing

,

Electronics

,

Food & Beverage

,

HI&I - Household, Industrial & Institutional

,

Personal Care & Pharmaceutical

,

Surface Treatment - Fluids, Lubricants & Metalworking

,

Textiles

,

Water Treatment

Request info
Isatoic Anhydride
118-48-9
Request info
Isoascorbic Acid
89-65-6
Request info
Isobutyric Acid
79-31-2
Request info
Isopropyl Acetate
108-21-4
Request info
Isopropyl Myristate
110-27-0
Request info
Isopropyl Palmitate
142-91-6
Request info
Isoquinoline
119-65-3
Request info
L-Alanine
56-41-7
Request info
L-Arginine Hydrochloride
15595-35-4
Request info
L-Aspartic Acid
56-84-8
Request info
L-Carnitine
541-15-1
Request info
L-Cysteine
52-90-4
Request info
L-Cysteine Hydrochloride Monohydrate
7048-04-6
Request info
L-Glutamine
56-85-9
Request info
L-Isoleucine
73-32-5
Request info
L-Leucine
61-90-5
Request info
L-Lysine
56-87-1
Request info
L-Lysine Hydrochloride
657-27-2
Request info
L-Phenylalanine
63-91-2
Request info
L-Proline
147-85-3
Request info
L-Threonine
72-19-5
Request info
L-Tryptophan
73-22-3
Request info
L-Tyrosine
60-18-4
Request info
L-Valine
72-18-4
Request info
Lactic Acid
50-21-5
Request info
Lactose
63-42-3
Request info
Lauric Acid
143-07-7
Request info
Lemon Juice Concentrate
404-86-4
Request info
Magnesium Citrate
3344-18-1
Request info
Magnesium Sulfate Heptaydrate
10034-99-8
Request info
Malic Acid
6915-15-7
Request info
Maltitol
585-88-6
Request info
Maltodextrin
9050-36-6
Request info
Medium Chain Triglyceride
73398-61-5
Request info
Menthol
89-78-1
Request info
Methanesulfonic Acid
75-75-2

Agriculture & Animal Care

,

CASE - Coatings, Adhesives, Sealants & Elastomers

,

Chemical & Materials Manufacturing

,

Electronics

,

Food & Beverage

,

HI&I - Household, Industrial & Institutional

,

Personal Care & Pharmaceutical

,

Surface Treatment - Fluids, Lubricants & Metalworking

,

Textiles

Request info
Methyl Benzoate
93-58-3
Request info
Methyl Cellulose
9004-67-5
Request info
Methyl Palmitate
112-39-0
Request info
Methyl Salicylate
119-36-8
Request info
Methylguanidoacetic acid
6020-87-7
Request info
Monocalcium Phosphate
7758-23-8
Request info
Monopotassium Phosphate
7778-77-0
Request info
Monosodium Glutamate
142-47-2
Request info
Monosodium Phosphate
7558-80-7
Request info
Myristic Acid
544-63-8
Request info
N-Acetyl L-Tyrosine
537-55-3
Request info
Natamycin
7681-93-8
Request info
Niacinamide
98-92-0
Request info
Nisin
1414-45-5
Request info
Octadecanedioic Acid
871-70-5
Request info
Oleic Acid
112-80-1
Request info
p-Tert Butyl Phenol
98-54-4
Request info
Palmitic Acid
57-10-3
Request info
Pea Protein
-
Request info
Pentadecanedioic Acid
1460-18-0
Request info
Phosphoric Acid
7664-38-2
Request info
Polysorbate 80
9005-65-6
Request info
Potassium Bicarbonate
298-14-6
Request info
Potassium Chloride
7447-40-7
Request info
Potassium Citrate
866-84-2
Request info
Potassium Ferrocyanide
14459-95-1
Request info
Potassium Iodate
7758-05-6
Request info
Potassium Lactate
996-31-6
Request info
Potassium Metabisulfite
16731-55-8
Request info
Potassium Sorbate
24634-61-5
Request info
Potato Starch
9005-25-8
Request info
Propionyl L-Carnitine Hydrochloride
119793-66-7
Request info
Propylene Glycol
57-55-6

Agriculture & Animal Care

,

CASE - Coatings, Adhesives, Sealants & Elastomers

,

Chemical & Materials Manufacturing

,

Construction & Building Materials

,

Food & Beverage

,

HI&I - Household, Industrial & Institutional

,

Personal Care & Pharmaceutical

,

Surface Treatment - Fluids, Lubricants & Metalworking

,

Textiles

Request info
Rice Protein
Mixture
Request info
Saccharin
81-07-2
Request info
Salicylic Acid
69-72-7
Request info
Silicium Dioxide
7631-86-9
Request info
Sodium Acid Pyrophosphate
7758-16-9
Request info
Sodium Alginate
9005-38-3
Request info
Sodium Aluminum Sulfate
10102-71-3
Request info
Sodium Ascorbate
134-03-2
Request info
Sodium Benzoate
532-32-1
Request info
Sodium Carboxymethyl Cellulose
9004-32-4
Request info
Sodium Caseinate
9005-46-3
Request info
Sodium Citrate
68-04-2
Request info
Sodium Erythorbate
6381-77-7
Request info
Sodium Ferrocyanide Decahydrate
14434-22-1
Request info
Sodium Fumarate
17013-01-3
Request info
Sodium Gluconate
527-07-1
Request info
Sodium Glycinate
6000-44-8
Request info
Sodium Hexametaphosphate
68915-31-1
Request info
Sodium Hypophosphite Monohydrate
10039-56-2

Agriculture & Animal Care

,

CASE - Coatings, Adhesives, Sealants & Elastomers

,

Chemical & Materials Manufacturing

,

Construction & Building Materials

,

Electronics

,

Food & Beverage

,

Personal Care & Pharmaceutical

,

Surface Treatment - Fluids, Lubricants & Metalworking

,

Textiles

,

Water Treatment

Request info
Sodium Lactate
72-17-3
Request info
Sodium Metabisulfite
7681-57-4
Request info
Sodium Monochloroacetate
3926-62-3

CASE - Coatings, Adhesives, Sealants & Elastomers

,

Chemical & Materials Manufacturing

,

Food & Beverage

,

HI&I - Household, Industrial & Institutional

,

Oil & Gas

,

Personal Care & Pharmaceutical

,

Pulp, Paper & Packaging

Request info
Sodium Nitrate
7631-99-4
Request info
Sodium Nitrite
7632-00-0
Request info
Sodium Propionate
137-40-6
Request info
Sodium Saccharin
128-44-9
Request info
Sodium Sulfate Anhydrous
7757-82-6
Request info
Sodium Tripolyphosphate
7758-29-4
Request info
Sorbic Acid
110-44-1
Request info
Sorbitol
50-70-4
Request info
Soy Flour
68513-95-1
Request info
Soy Lecithin
8002-43-5
Request info
Soy Oligosaccharide
10094-58-3
Request info
Soy Protein
9010-10-0
Request info
Soybean Oil
8001-227-7
Request info
Stannous Chloride Anhydrous
7772-99-8
Request info
Stearic Acid
57-11-4
Request info
Stearyl Alcohol
112-92-5
Request info
Stevia
58543-16-1
Request info
Strontium Hydroxide
18480-07-4
Request info
Succinic Acid
110-15-6
Request info
Sucralose
56038-13-2
Request info
Sucrose Acetate Isobutyrate
126-13-6
Request info
Sunflower Seed Oil
8001-21-6
Request info
Tannic Acid
1401-55-4
Request info
Tapioca Starch
9005-25-8
Request info
Tartaric Acid
87-69-4
Request info
Taurine
107-35-7
Request info
Tert-Amyl Alcohol
75-85-4
Request info
Tetradecanedioic Acid
821-38-5
Request info
Tetrapotassium Pyrophosphate
7320-34-5
Request info
Tetrasodium Pyrophosphate
7722-88-5
Request info
Triacetin
102-76-1
Request info
Tricalcium Citrate
813-94-5
Request info
Tricalcium Phosphate
7758-87-4
Request info
Triethyl Phosphite
122-52-1
Request info
Triflic Acid
1493-13-6
Request info
Triflic Anhydride
358-23-6
Request info
Triisopropanolamine
122-20-3
Request info
Trisodium Phosphate Dodecahydrate
10101-89-0
Request info
Vanillin
121-33-5
Request info
Vitamin B1 Mono
532-43-4
Request info
Vitamin B12
68-19-9
Request info
Vitamin B2
83-88-5
Request info
Vitamin E Acetate
7695-91-2
Request info
Xanthan Gum
11138-66-2
Request info
Xylitol
87-99-0
Request info
Zinc Carbonate
3486-35-9
Request info
Zirconium Oxychloride
7699-43-6
Request info