Mining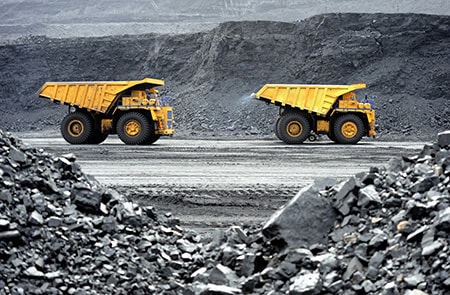 As a supplier and distributor of mining - salts and metal chemicals, Wego Chemical Group partners with the world's leading manufacturers to bring our customers a range of commodity and specialty products for the mining - salts and metals industry. Wego's mining - salts and metal products sell to various end users for numerous applications and uses.

Mining salts metal manufacturers around the world depend on Wego to supply raw materials. Wego's long-standing relationships and chemical industry knowledge make us a reliable supplier for mining - salts and metal products in nations across the globe.

Wego's products include but are not limited to: acids, acrylates, alcohols, amines, glycols, oils, pigments, polymers, solvents, surfactants and other additives. Wego always ensures our supply of products meet the highest standards in production, quality, safety and service.
Chemicals in the Mining market
Name
CAS #
Markets
2-Mercaptobenzothiazole
149-30-4
Request info
Calcium Cyanamide
156-62-7
Request info
Calcium Sulfonate
Mixture
Request info
Carboxymethyl Cellulose
9000-11-7
Request info
Carboxymethyl Starch
9057-06-1
Request info
Citric Acid Anhydrous
77-92-9

Agriculture & Animal Care

,

CASE - Coatings, Adhesives, Sealants & Elastomers

,

Chemical & Materials Manufacturing

,

Construction & Building Materials

,

Food & Beverage

,

HI&I - Household, Industrial & Institutional

,

Mining

,

Oil & Gas

,

Personal Care & Pharmaceutical

,

Pulp, Paper & Packaging

,

Surface Treatment - Fluids, Lubricants & Metalworking

,

Textiles

,

Water Treatment

Request info
Citric Acid Monohydrate
5949-29-1

Agriculture & Animal Care

,

CASE - Coatings, Adhesives, Sealants & Elastomers

,

Chemical & Materials Manufacturing

,

Construction & Building Materials

,

Food & Beverage

,

HI&I - Household, Industrial & Institutional

,

Mining

,

Oil & Gas

,

Personal Care & Pharmaceutical

,

Pulp, Paper & Packaging

,

Surface Treatment - Fluids, Lubricants & Metalworking

,

Textiles

,

Water Treatment

Request info
Copper Sulfate
7758-99-8
Request info
Graphite
7782-42-5
Request info
Hydrotalcite
11097-59-9
Request info
Hydroxyethyl Cellulose
9004-62-0
Request info
Isopropyl Ethyl Thionocarbamate
141-98-0
Request info
Lead Nitrate
10099-74-8
Request info
Lead Oxide
1335-25-7
Request info
Methyl Isobutyl Carbinol
108-11-2
Request info
Organophilic Clay
Mixture
Request info
Oxalic Acid
144-62-7
Request info
Phosphorus Pentasulfide
1314-80-3
Request info
Polyanionic Cellulose
9004-34-6
Request info
Potassium Acetate
127-08-2
Request info
Potassium Amyl Xanthate
2720-73-2
Request info
Sodium Carboxymethyl Cellulose
9004-32-4
Request info
Sodium Diisobutyl Dithiophosphate
53378-51-1
Request info
Sodium Dimethyldithiocarbamate
128-04-1
Request info
Sodium Ethyl Xanthate
140-90-9
Request info
Sodium Ferrocyanide Decahydrate
14434-22-1
Request info
Sodium Hydrosulfide
16721-80-5

Agriculture & Animal Care

,

CASE - Coatings, Adhesives, Sealants & Elastomers

,

Chemical & Materials Manufacturing

,

Construction & Building Materials

,

HI&I - Household, Industrial & Institutional

,

Mining

,

Oil & Gas

,

Pulp, Paper & Packaging

,

Surface Treatment - Fluids, Lubricants & Metalworking

,

Textiles

Request info
Sodium Isobutyl Xanthate
25306-75-6
Request info
Sodium Isopropyl Xanthate
140-93-2
Request info
Tert-Amyl Alcohol
75-85-4
Request info
Xanthan Gum
11138-66-2
Request info