Key Products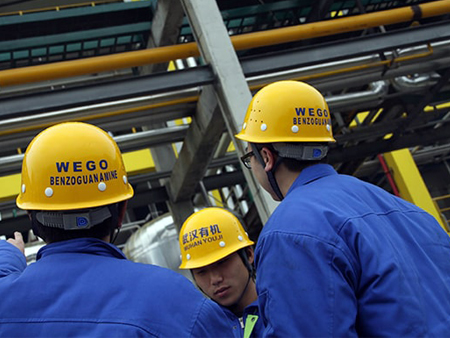 For decades Wego has differentiated itself from chemical traders and importing agents with our extensive knowledge and service, enabled by our dedication to cultivating relationships with our manufacturing partners. In order to provide our customers
with comprehensive supply chain solutions
, we believe it is imperative to provide - beyond the
items of commerce
themselves - a complete understanding of the global chemical manufacturing landscape behind our products; the major global manufacturers for a given chemical, regulatory policies and geopolitical affairs related to countries of origin, raw material positions and production cycles, and anything else that might affect a producer's reliability and long-term commercial viability as a producer.
With
teams on the ground in all corners of the world
and
decades of experience maneuvering the global landscape of chemical manufacturers
, Wego prides itself on our network of manufacturing partners. Of the hundreds of products Wego consistently supplies globally, there are a select number of key products across a variety of end-use industries where Wego truly acts as an extension of our manufacturers, in many cases even acting as the exclusive manufacturer's representative for sales and distribution.
Chemicals in the Key Products category
Name
CAS #
Markets
1,1,1,2-Tetrafluoroethane
811-97-2
Request info
1,1,1,3,3-Pentafluoropropane
460-73-1
Request info
1,1,3,3-Hexamethyldisilazane
999-97-3
Request info
1,1-Difluoroethane
75-37-6
Request info
1,2-Dimethylimidazole
1739-84-0
Request info
1,4-Cyclohexanedimethanol
105-08-8
Request info
1-Hydroxyethylidene-1, 1-Diphosphonic Acid
2809-21-4
Request info
12-Hydroxystearic Acid
106-14-9
Request info
2-Acrylamido-2-Methyl Propane Sulfonic Acid Ammonium Salt
58374-69-9
Request info
2-Acrylamido-2-Methyl-1-Propanesulfonic Acid Sodium Salt Solution
5165-97-9
Request info
2-Acrylamido-2-Methylpropane Sulphonic Acid
15214-89-8
Request info
2-Chloronicotinic Acid
2942-59-8
Request info
2-Ethylhexyl Methacrylate
688-84-6
Request info
3-Methacryloxypropyltrimethoxysilane
2530-85-0
Request info
4,4'-Methylenebis(cyclohexylamine)
1761-71-3
Request info
Acetyltributylcitrate
77-90-7
Request info
Alkylsulfonic Acid Phenyl Ester
91082-17-6
Request info
Allyl Chloride
107-05-1
Request info
Amino Trimethylene Phosphonic Acid
6419-19-8
Request info
Ammonium Bifluoride
1341-49-7
Request info
Ascorbic Acid
50-81-7
Request info
Aspartame
22839-47-0
Request info
Barium Hydroxide Anhydrous
17194-00-2
Request info
Benzoguanamine
91-76-9
Request info
Benzoic Acid
65-85-0
Request info
Benzophenone
119-61-9
Request info
Benzyl Alcohol
100-51-6
Request info
Butylated Hydroxytoluene
128-37-0
Request info
Carboxymethyl Cellulose
9000-11-7
Request info
Castor Oil
8001-79-4
Request info
Caustic Soda
1310-73-2
Request info
Cetyl Alcohol
36653-82-4
Request info
Cetyl Bromide
112-82-3
Request info
Choline Chloride
67-48-1
Request info
Citric Acid Anhydrous
77-92-9

Agriculture & Animal Care

,

CASE - Coatings, Adhesives, Sealants & Elastomers

,

Chemical & Materials Manufacturing

,

Construction & Building Materials

,

Food & Beverage

,

HI&I - Household, Industrial & Institutional

,

Mining

,

Oil & Gas

,

Personal Care & Pharmaceutical

,

Pulp, Paper & Packaging

,

Surface Treatment - Fluids, Lubricants & Metalworking

,

Textiles

,

Water Treatment

Request info
Cyanuric Acid
108-80-5
Request info
Cyanuric Chloride
108-77-0
Request info
Diacetone Acrylamide
2873-97-4
Request info
Dicyandiamide
461-58-5
Request info
Dimethyl Carbonate
616-38-6
Request info
Dipotassium Phosphate
7758-11-4
Request info
Disodium Phosphate
7558-79-4
Request info
Dodecanedioic Acid
693-23-2
Request info
Erythorbic Acid
89-65-6
Request info
Fumaric Acid
110-17-8

Agriculture & Animal Care

,

CASE - Coatings, Adhesives, Sealants & Elastomers

,

Chemical & Materials Manufacturing

,

Food & Beverage

,

Personal Care & Pharmaceutical

,

Pulp, Paper & Packaging

,

Surface Treatment - Fluids, Lubricants & Metalworking

,

Textiles

Request info
Glutaric Anhydride
108-55-4
Request info
Glyoxal
107-22-2
Request info
Guanidine Carbonate
593-85-1
Request info
Guar Gum
9000-30-0
Request info
Hypophosphorous Acid
6303-21-5

CASE - Coatings, Adhesives, Sealants & Elastomers

,

Chemical & Materials Manufacturing

,

Electronics

,

HI&I - Household, Industrial & Institutional

,

Personal Care & Pharmaceutical

,

Surface Treatment - Fluids, Lubricants & Metalworking

,

Textiles

,

Water Treatment

Request info
Itaconic Acid
97-65-4
Request info
L-Alanine
56-41-7
Request info
L-Arginine Hydrochloride
15595-35-4
Request info
L-Glutamine
56-85-9
Request info
L-Isoleucine
73-32-5
Request info
L-Leucine
61-90-5
Request info
L-Lysine
56-87-1
Request info
L-Proline
147-85-3
Request info
L-Threonine
72-19-5
Request info
L-Tryptophan
73-22-3
Request info
L-Tyrosine
60-18-4
Request info
L-Valine
72-18-4
Request info
Lithium Carbonate
554-13-2
Request info
Lithium Hydroxide Monohydrate
1310-66-3
Request info
Malic Acid
6915-15-7
Request info
Methanesulfonic Acid
75-75-2

Agriculture & Animal Care

,

CASE - Coatings, Adhesives, Sealants & Elastomers

,

Chemical & Materials Manufacturing

,

Electronics

,

Food & Beverage

,

HI&I - Household, Industrial & Institutional

,

Personal Care & Pharmaceutical

,

Surface Treatment - Fluids, Lubricants & Metalworking

,

Textiles

Request info
Methyl Chloride
74-87-3
Request info
Methylene Chloride
75-09-2
Request info
Monosodium Phosphate
7558-80-7
Request info
N-Methyl Pyrrolidone
872-50-4
Request info
N-Octyl Pyrrolidone
2687-94-7

Agriculture & Animal Care

,

CASE - Coatings, Adhesives, Sealants & Elastomers

,

Chemical & Materials Manufacturing

,

Electronics

,

HI&I - Household, Industrial & Institutional

,

Personal Care & Pharmaceutical

,

Surface Treatment - Fluids, Lubricants & Metalworking

,

Textiles

Request info
N-Propylbromide
106-94-5
Request info
Nitrobenzoic Acid
62-23-7
Request info
Nitromethane
75-52-5
Request info
Oxalic Acid
144-62-7
Request info
Parachlorobenzotrifluoride
98-56-6
Request info
Phosphorous Acid
13598-36-2
Request info
Phosphorus Pentoxide
1314-56-3

Agriculture & Animal Care

,

CASE - Coatings, Adhesives, Sealants & Elastomers

,

Chemical & Materials Manufacturing

,

HI&I - Household, Industrial & Institutional

,

Oil & Gas

,

Personal Care & Pharmaceutical

,

Surface Treatment - Fluids, Lubricants & Metalworking

,

Textiles

Request info
Polyanionic Cellulose
9004-34-6
Request info
Polycarboxylate
Mixture
Request info
Polydimethylsiloxane
63148-62-9
Request info
Polydimethylsiloxane Hydroxy Terminated
70131-67-8
Request info
Polymethylhydrosiloxane
63148-57-2
Request info
Polyvinyl Alcohol
9002-89-5

CASE - Coatings, Adhesives, Sealants & Elastomers

,

Chemical & Materials Manufacturing

,

Construction & Building Materials

,

Personal Care & Pharmaceutical

,

Pulp, Paper & Packaging

,

Surface Treatment - Fluids, Lubricants & Metalworking

,

Textiles

Request info
Potassium Bromide
7758-02-3
Request info
Potassium Peroxymonosulfate
70693-62-8
Request info
Potassium Silicofluoride
16871-90-2
Request info
Potassium Sorbate
24634-61-5
Request info
Propyl Gallate
121-79-9
Request info
Propylene Carbonate
108-32-7
Request info
Prussian Blue
25869-00-5
Request info
Pyrogallic Acid
87-66-1
Request info
Salicylic Acid
69-72-7
Request info
Sodium Acetate Anhydrous
127-09-3
Request info
Sodium Acid Pyrophosphate
7758-16-9
Request info
Sodium Alginate
9005-38-3
Request info
Sodium Benzoate
532-32-1
Request info
Sodium Bifluoride
1333-83-1
Request info
Sodium Bromate
7789-38-0
Request info
Sodium Erythorbate
6381-77-7
Request info
Sodium Ferrocyanide Decahydrate
14434-22-1
Request info
Sodium Fluoride
7681-49-4
Request info
Sodium Hexametaphosphate
68915-31-1
Request info
Sodium Hypophosphite Monohydrate
10039-56-2

Agriculture & Animal Care

,

CASE - Coatings, Adhesives, Sealants & Elastomers

,

Chemical & Materials Manufacturing

,

Construction & Building Materials

,

Electronics

,

Food & Beverage

,

Personal Care & Pharmaceutical

,

Surface Treatment - Fluids, Lubricants & Metalworking

,

Textiles

,

Water Treatment

Request info
Sodium Perborate Monohydrate
10332-33-9

Chemical & Materials Manufacturing

,

Construction & Building Materials

,

HI&I - Household, Industrial & Institutional

,

Oil & Gas

,

Personal Care & Pharmaceutical

,

Pulp, Paper & Packaging

,

Surface Treatment - Fluids, Lubricants & Metalworking

,

Water Treatment

Request info
Sodium Perborate Tetrahydrate
10486-00-7
Request info
Sodium Silicofluoride
16893-85-9
Request info
Sodium Thiosulfate Pentahydrate
10102-17-7
Request info
Sodium Tripolyphosphate
7758-29-4
Request info
Sorbic Acid
110-44-1
Request info
Sorbitol
50-70-4
Request info
Soy Protein
9010-10-0
Request info
Stearic Acid
57-11-4
Request info
Stearyl Alcohol
112-92-5
Request info
Succinic Acid
110-15-6
Request info
Sucralose
56038-13-2
Request info
Sulfamic Acid
5329-14-6
Request info
Taurine
107-35-7
Request info
Tert-Butanol
75-65-0
Request info
Tert-Butyl Acetate
540-88-5
Request info
Tetrabromophthalate Diol
77098-07-8
Request info
Tetrakis(hydroxymethyl)phosphonium Chloride
124-64-1
Request info
Tetrakis(hydroxymethyl)phosphonium Sulphate
55566-30-8

CASE - Coatings, Adhesives, Sealants & Elastomers

,

Chemical & Materials Manufacturing

,

Construction & Building Materials

,

Oil & Gas

,

Pulp, Paper & Packaging

,

Surface Treatment - Fluids, Lubricants & Metalworking

,

Textiles

,

Water Treatment

Request info
Tetrapotassium Pyrophosphate
7320-34-5
Request info
Tetrasodium Pyrophosphate
7722-88-5
Request info
Thiourea
62-56-6
Request info
Thiourea Dioxide
1758-73-2
Request info
Tricalcium Phosphate
7758-87-4
Request info
Trichloroethylene
79-01-6
Request info
Triethyl Phosphate
78-40-0
Request info
Triflic Acid
1493-13-6
Request info
Triflic Anhydride
358-23-6
Request info
Triglycidyl Isocyanurate
2451-62-9
Request info
Trimellitic Anhydride
552-30-7
Request info
Tris (2-Chloroisopropyl) Phosphate
13674-84-5
Request info
Trisodium Phosphate Dodecahydrate
10101-89-0
Request info
Wego-BLEND
Mixture
Request info
Wego-FLEX
Mixture
Request info
Wetting Agent DQGC
Mixture
Request info
Xanthan Gum
11138-66-2
Request info
Zinc Chloride
7646-85-7
Request info
Zirconium Oxychloride
7699-43-6
Request info